Farrowing and/or Nursery     
Sowjoy Free Stall Pens are constructed of 1 1/4″ square tubing with 1/2″ rod on 2″ centers.  Gates are 40″ high in sow area and 24″ high in creep area for easy access.  Optional raised floor and deluxe package also offered. 
Deluxe package includes:
* 1″ sq. shaft bottom Bars & Corner Posts
* Stainless Steel Hinges, Waterer Plate & Pads
CAN BE CUSTOM BUILT TO MEET YOUR NEEDS!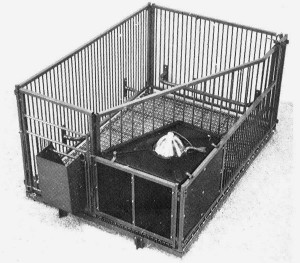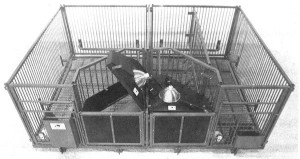 Free Stall with Swinging Farrowing Gate                                               Free Stall with Creep Guard
                
Features:
* Free Stalls can be used both as a Nursery and Farrowing pen with many advantage
* As a Farrowing Pen the sow has the freedom to move around
* Sows are more comfortable and content
* Sow mobility keeps them healthier
* As a Nursery you utilize the same building and same space
* Pigs stay in familiar environment, reducing stress
* Creep area and Rump bars protect pigs from sow
* Creep area is lined with durable sheet plastic to prevent draft and sow wastes on pigs