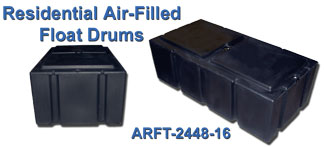 Made with the same attention to detail as our heavy-duty commercial float line, Ace Residential Floats are air-filled, making them lighter and easier to assemble. The environmentally friendly floats are made of tough virgin polyethylene with ultraviolet inhibitors to prevent sun damage. The rotationally molded shell is made in one piece, providing seamless, watertight construction. These floats are easy to assemble to any dock frame and are perfect for residential docks.
View the PDF version of our Ace Residential Float Drum Guidelines for information on use, requirements, installation, and buoyancy of the air-filled floats.
View the PDF version of our Residential Air-Filled Float Drum Warranty for warranty details.
CHECK OUT OUR ACE DOCK ACCESSORIES CATALOG
View technical drawings by clicking on the part number below.
| | | | | |
| --- | --- | --- | --- | --- |
| Part No. | Description | Dimensions | Case Dimensions | Case Shipping Weight |
| ARFT2436-12 | 24″x36″x12″ Air Float | 24″x36″x12″ | 24″x36″x12″ | 20 lbs |
| ARFT2436-16 | 24″x36″x16″ Air Float | 24″x36″x16″ | 24″x36″x16″ | 21 lbs |
| ARFT2448-12 | 24″x48″x12″ Air Float | 24″x48″x12″ | 24″x48″x12″ | 23 lbs |
| ARFT2448-16 | 24″x48″x16″ Air Float | 24″x48″x16″ | 24″x48″x16″ | 27 lbs |
| Part No. | Description | Dimensions | Case Dimensions | Case Shipping Weight |