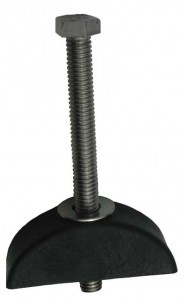 Anchor Rite Concrete Slat Fastener
The Anchor Rite Concrete Slat Fastener quickly attaches hog panels to concrete slats, sitting lower in the channel so it does not crack the concrete. The molded clip features a semi-elliptical profile to provide a larger contact angle over competitive circular designs, lowering stresses on the slat sides.
Attachment hardware:
3/8" x 4" long -16 fully threaded 304 stainless steel bolt (5" length also available)
3/8" 304 stainless steel flat washer
Made with glass-filled nylon, the Anchor Rite with the zinc nut is black in color, stainless steel is natural.
Sold in boxes of 100 units.
Click to view additional Sowjoy Confinement Equipment products.
| | |
| --- | --- |
| Part No. | Description |
| 12449-SS5 | Stainless Steel Nut W/5″ Bolt |
| 12449-SS | Stainless Steel Nut |
| 12449-Z5 | Zinc Plated Nut W/5″ Bolt |
| 12449-Z | Zinc Plated Hex Nut |
| Part No. | Description |