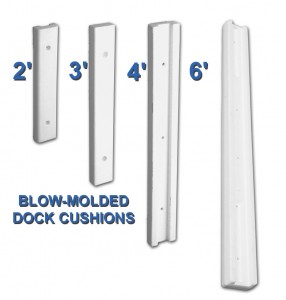 A g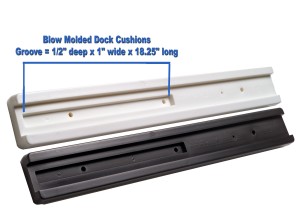 roove in the back of each Blow-Molded Dock cushions allows cushions to be mounted on poles that have other equipment (i.e. poles for a canopy or roof) already bolted to it. The groove allows space to fit over existing bolts or other hardware already present on the pole.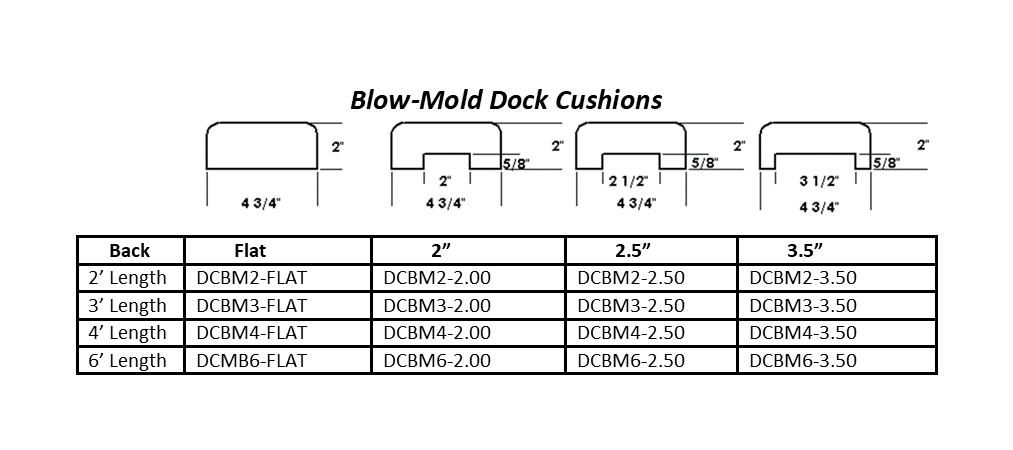 $5.00 Break Case Charge
Available in Black (BK) and White (WE)
View technical drawings by clicking on the part number below.
| | | | | | | |
| --- | --- | --- | --- | --- | --- | --- |
| Part No. | Capacity | Description | Dimensions | Case Qty | Case Dimensions | Case Shipping Weight |
| DCBM2-FLAT | fits 4 1/2″ flat post | 2′ Cushion, Blow-Mold, Flat Back | 4 3/4″ x 2″ x 24″ | 12 | 12″ x 10″ x 25″ | 20 lbs |
| DCBM2-2.00 | fits 2″ flat post | 2′ Cushion, Blow-Mold, 2.00″ Back | 4 3/4″ x 2″ x 24″ | 12 | 12″ x 10″ x 25″ | 20 lbs |
| DCBM2-2.50 | fits 2 1/2″ flat post | 2′ Cushion, Blow-Mold, 2.50″ Back | 4 3/4″ x 2″ x 24″ | 12 | 12″ x 10″ x 25″ | 20 lbs |
| DCBM2-3.50 | fits 3 1/2″ flat post | 2′ Cushion, Blow-Mold, 3.50″ Back | 4 3/4″ x 2″ x 24″ | 12 | 12″ x 10″ x 25″ | 20 lbs |
| DCBM3-FLAT | fits 4 1/2″ flat post | 3′ Cushion, Blow-Mold, Flat Back | 4 3/4″ x 2″ x 36″ | 12 | 12″ x 10″ x 37″ | 26 lbs |
| DCBM3-2.00 | fits 2″ flat post | 3′ Cushion, Blow-Mold, 2.00″ Back | 4 3/4″ x 2″ x 36″ | 12 | 12″ x 10″ x 37″ | 26 lbs |
| DCBM3-2.50 | fits 2 1/2″ flat post | 3′ Cushion, Blow-Mold, 2.50″ Back | 4 3/4″ x 2″ x 36″ | 12 | 12″ x 10″ x 37″ | 26 lbs |
| DCBM3-3.50 | fits 3 1/2″ flat post | 3′ Cushion, Blow-Mold, 3.50″ Back | 4 3/4″ x 2″ x 36″ | 12 | 16″ x 13″ x 37″ | 26 lbs |
| DCBM4-FLAT | fits 4 1/2″ flat post | 4′ Cushion, Blow-Mold, Flat Back | 4 3/4″ x 2″ x 48″ | 12 | 12″ x 11″ x 49″ | 42 lbs |
| DCBM4-2.00 | fits 2″ flat post | 4′ Cushion, Blow-Mold, 2.00″ Back | 4 3/4″ x 2″ x 48″ | 12 | 12″ x 11″ x 49″ | 42 lbs |
| DCBM4-2.50 | fits 2 1/2″ flat post | 4′ Cushion, Blow-Mold, 2.50″ Back | 4 3/4″ x 2″ x 48″ | 12 | 12″ x 11″ x 49″ | 42 lbs |
| DCBM4-3.50 | fits 3 1/2″ flat post | 4′ Cushion, Blow-Mold, 3.50″ Back | 4 3/4″ x 2″ x 48″ | 12 | 12″ x 11″ x 49″ | 42 lbs |
| DCBM6-FLAT | fits 4 1/2″ flat post | 6′ Cushion, Blow-Mold, Flat Back | 4 3/4″ x 2″ x 74″ | 10 | 11″ x 10 1/2″ x 76″ | 52 lbs |
| DCBM6-2.00 | fits 2″ flat post | 6′ Cushion, Blow-Mold, 2.00″ Back | 4 3/4″ x 2″ x 74″ | 10 | 11″ x 10 1/2″ x 76″ | 52 lbs |
| DCBM6-2.50 | fits 2 1/2″ flat post | 6′ Cushion, Blow-Mold, 2.50″ Back | 4 3/4″ x 2″ x 74″ | 10 | 11″ x 10 1/2″ x 76″ | 52 lbs |
| DCBM6-3.50 | fits 3 1/2″ flat post | 6′ Cushion, Blow-Mold, 3.50″ Back | 4 3/4″ x 2″ x 74″ | 10 | 11″ x 10 1/2″ x 76″ | 52 lbs |
| Part No. | Capacity | Description | Dimensions | Case Qty | Case Dimensions | Case Shipping Weight |