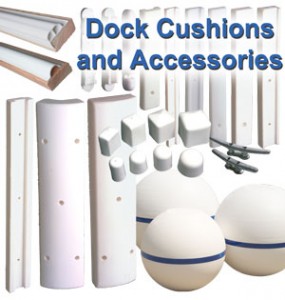 Ace dock cushions can easily be mounted to any dock system to provide maximum protection for your boat and dock. Made of tough and durable polyethylene with ultra-violet inhibitors, Ace dock cushions are made to last. They are recyclable and environmentally safe for both fresh and salt water. Rotationally molded cushions provide the quality you expect from Den Hartog Industries, Inc. New blow-molded cushions provide exceptional value for customers by offering high-quality white or black dock cushions at a competitive price. Dock Harbor cushions are larger cushions that provide excellent protection for your boat. Ace's line of dock cushions, rub rail, and safety caps are easy to mount, won't scratch or mar boats, and provide high visibility day or night. Dock cleats and mooring buoys are also available.
Click on the link to ACE Dock Accessories Page
View the PDF version of our Marine Cushions, Buoys or Marine Accessories Warranty for warranty details.