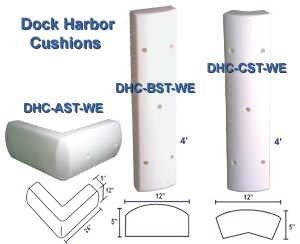 Available in FIRM & FLEX Options:
FIRM – Our durable "Firm" cushions are designed to protect your boat by deflecting it away from your dock.
FLEX – "Flex" Cushions have the feel of vinyl with the added benefit of being more resilient.
View technical drawings by clicking on the part number below.
$5.00 Break Case Charge
| | | | | | |
| --- | --- | --- | --- | --- | --- |
| Part No. | Capacity | Description | Dimensions | Case Dimensions | Case Shipping Weight |
| DHC-AST-WE | corner cushion | Dock Harbor Cushion "A" Firm, White | 24″ x 5″ x 12″ | 24″ x 29″ x 12″ | 20 lbs |
| DHC-AST-BK | corner cushion | Dock Harbor Cushion "A" Firm, Black | 24″ x 5″ x 12″ | 24″ x 29″ x 12″ | 20 lbs |
| DHC-BST-WE | flat cushion | Dock Harbor Cushion "B" Firm, White | 12″ x 5″ x 48″ | 12″ x 11″ x 49″ | 20 lbs |
| DHC-BST-BK | flat cushion | Dock Harbor Cushion "B" Firm, Black | 12″ x 5″ x 48″ | 12″ x 11″ x 49″ | 20 lbs |
| DHC-CST-WE | rounded cushion | Dock Harbor Cushion "C" Firm, White | 12″ x 5 "x 48" | 12″ x 11″ x 49″ | 20 lbs |
| DHC-CST-BK | rounded cushion | Dock Harbor Cushion "C" Firm, Black | 12″ x 5″ x 48″ | 12″ x 11″ x 49″ | 20 lbs |
| Part No. | Capacity | Description | Dimensions | Case Dimensions | Case Shipping Weight |