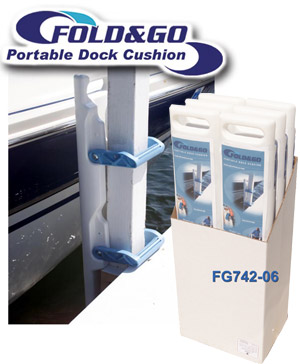 The innovative Fold & Go Portable Dock Cushion is the newest boating "must-have." Protect your boat from scratching and scraping against rough posts with the durable and portable new Fold & Go. Made of durable polyethylene with ultra-violet inhibitors, this portable dock cushion provides long-lasting protection and resistance to damage and yellowing from sunlight. The handles on the Fold & Go easily fold down to fit over any 4" or smaller round or square post and then fold up in seconds for easy onboard storage. Six Fold & Go Portable Dock Cushions are shipped in a durable shipping box that converts to an attractive point-of-sale floor display. Individual pieces feature a four-color display sleeve with a UPC bar code label. Quantity discounts are available to dealers and retailers for ordering in case or pallet quantities.
Visit our Ace Dock Accessories Page
CHECK OUT OUR ACE DOCK AND ACCESSORIES CATALOG
View technical drawings by clicking on the part number below.
| | | | | |
| --- | --- | --- | --- | --- |
| Part No. | Description | Dimensions | Case Dimensions | Case Shipping Weight |
| FG742-01 | 1 Piece/Carton | 7″ x 4″ x 40″ each | 8″x5″x41″ | 7 lbs |
| FG742-06 | 6 Pieces/Carton | 7″ x 4″ x 40″ each | 16″x13″x41″ | 42 lbs |
| FG742-60 | 60 Pieces/Pallet | 7″ x 4″ x 40″ each | | 435 lbs |
| Part No. | Description | Dimensions | Case Dimensions | Case Shipping Weight |