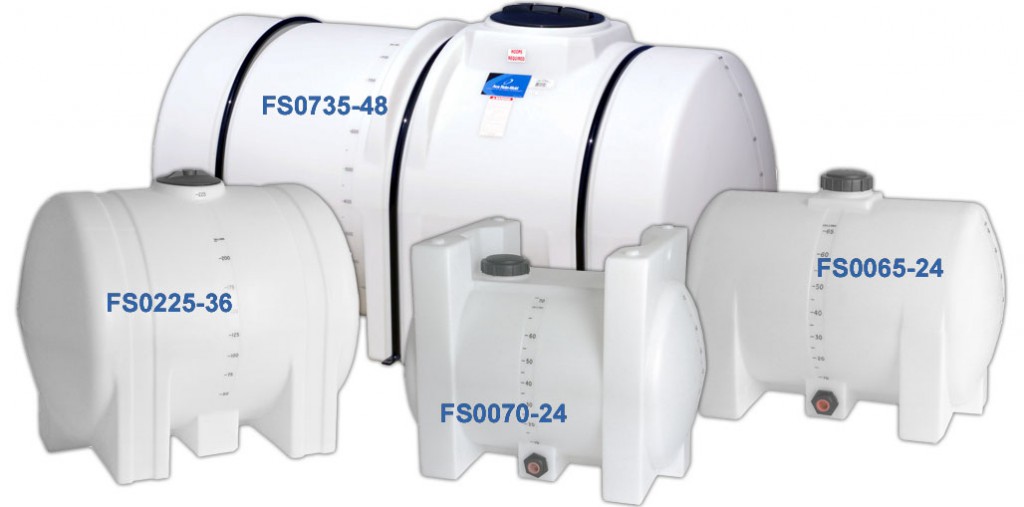 Free Standing Leg Tanks are selected when transportable (non DOT regulated) containment is required for indoor or outdoor applications. Leg Tanks are equipped with molded-in legs to support the tank and band locators for tie down. Tanks are manufactured from medium- or high-density polyethylene with U.V. inhibitors and designed for containment of liquids of up to 1.7 specific gravity. Tank walls are translucent for level viewing and equipped with gallon indicators.
Ace Roto-Mold's unique baffle system is easy to install and clean.  These baffles help to reduce fluid sloshing.
Baffles come standard in some tanks and offered as an option in others:

Optional: FS1065-56W,FS1300-DW
Standard: FS1610-78, FS1750-62, FS1850-78, FS2350-88, FS2750-88, FS3250-88, FS3750-88 & FS4250-88
         
View technical drawings by clicking on the part number below.
FSxxxx-W = Without Sump
† indicates can be shipped via UPS/Fed Ex
When ordering, please indicate whether the fitting should be installed, not installed, or shipped loose. If installed, indicate preferred fitting location (END or SIDE are most common). Leg Tanks must be fully supported for transport.
| | | | | | | |
| --- | --- | --- | --- | --- | --- | --- |
| Part No. | Capacity | Description | Weight | Dimensions | Lid | Fitting |
| FS0035-18† | 35 Gallon | | 16 | 18 x 34 | 5″ | 1″ |
| FS0055-23 | 55 Gallon | | 22 | 23 x 34 x 27 | 5″ | 1″ |
| FS0065-24† | 65 Gallon | | 33 | 24 x 39 | 5″ | 1″ |
| FS0070-24† | 70 Gallon | Stackable | 37 | 24 x 39 | 5″ | 1″ |
| FS0125-32 | 125 Gallon | | 54 | 32 x 44 | 8″ | 1″ |
| FS0165-32 | 165 Gallon | | 72 | 32 x 54 | 8″ | 1″ |
| FS0225-38 | 225 Gallon | | 87 | 38 x 52 | 8″ | 2″ |
| FS0325-38 | 325 Gallon | | 108 | 38 x 72 | 12″ | 2″ |
| FS0335-44 | 335 Gallon | | 118 | 44 x 56 | 16″ | 2″ |
| FS0510-57 | 510 Gallon (Hoops Req.) | Elliptical | 164 | 57 x 80 x 39 | 16″ | 2″ |
| FS0535-48 | 535 Gallon | | 186 | 48 x 78 | 16″ | 2″ |
| FS0735-48 | 735 Gal (Hoops Req.) | | 252 | 48 x 103 | 16″ | 2″ |
| FS0925-DW | 925 Gal (Hoops Req.) | | 292 | 62 x 81 | 16″ | 2″ |
| FS1005-48 | 1005 Gal (Hoops Req.) | | 342 | 48 x 130 | 16″ | 2″ |
| FS1035-78 | 1035 Gal (Hoops Req.) | Elliptical | 292 | 78 x 90 x 52 | 16″ | 2″ |
| FS1065-56W | 1065 Gal (Hoops Req.) | | 342 | 56 x 105 | 16″ | 2″ |
| FS1300-DW | 1300 Gal (Hoops Req.) | | 427 | 62 x 114 | 16″ | 2″ |
| FS1610-78 | 1610 Gal (Hoops Req.) | Elliptical | 530 | 78 x 139 x 56 | 16″ | 2″ |
| FS1750-62 | 1750 Gal (Hoops Req.) | | 616 | 62 x 147 | 16″ | 2″ |
| FS1800-2W | 1800 Gal (Hoops Req.) | multi tanks (2) | 580 | 62 x 149 | 16″ | 2″ |
| FS1850-78 | 1850 Gal (Hoops Req.) | Elliptical | 571 | 78 x 139 x 63 | 16″ | 2″ |
| FS2350-88 | 2350 Gal (Hoops Req.) | Elliptical | 920 | 88 x 146 x 63 | 16″ | 2″ |
| FS2600-2W | 2600 Gal (Hoops Req.) | multi tanks (2) | 850 | 62 x 212 | 16″ | 2″ |
| FS2750-88 | 2750 Gal (Hoops Req.) | Elliptical | 1150 | 88 x 146 x 70 | 16″ | 2″ |
| FS3250-88 | 3250 Gal (Hoops Req.) | Elliptical | 1208 | 88 x 146 x 79 | 16″ | 3″ |
| FS3750-88 | 3750 Gal (Hoops Req.) | Elliptical | 1422 | 88 x 146 x 91 | 16″ | 3″ |
| FS4200-92 | 4200 Gallon (Hoops Req.) | Elliptical | 1648 | 92 x 195 x 80 | 16″ | 3″ |
| FS4250-88 | 4250 Gal (Hoops Req.) | Elliptical | 1617 | 88 x 146 x 101 | 16″ | 3″ |
| Part No. | Capacity | Description | Weight | Dimensions | Lid | Fitting |