Inductor Tanks are selected as supply tanks for application systems and when a more complete drain out of stored liquids is required in indoor or outdoor applications. Tanks require stands to support the conical bottoms. Tanks are manufactured from medium-density polyethylene with U.V. inhibitors and designed for containment of liquids of up to 1.7 specific gravity. Tank walls are translucent for level viewing and equipped with gallon indicators.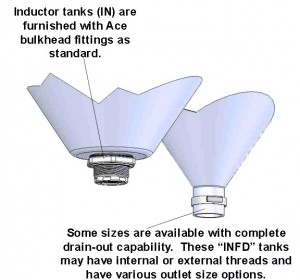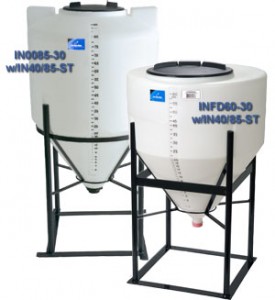 Looking for a stand for an Inductor, click here to check out the large assortment of sizes DHI has available.
Clicking on the Part # below will bring up the Print (Technical Drawing) of the item.
† indicates can be shipped via UPS/Fed Ex
| | | | | | |
| --- | --- | --- | --- | --- | --- |
| Part No. | Description | Weight | Dimensions | Lid | Fitting |
| INFD7-15† | 7 Gallon Full Drain | 8 | 15 x 21 | 8″ | 1 1/2″ FPT BOSS |
| INFD10-15† | 10 Gallon Full Drain | 10 | 15 x 25 | 8 | 1 1/2 FPT BOSS |
| IN0015-19† | 15 Gallon | 12 | 19 x 24 | 12″ | 2″ FPT |
| INFD15-19† | 15 Gallon Full Drain | 12 | 19 x 27 | 12″ | 1 1/2″ FPT BOSS |
| IN0015-19SM† | 15 Gallon Side Mount | 10 | 19 x 24 | 12″ | 2″ FPT |
| IN0030-24† | 30 Gallon | 17 | 24 x 30 | 12″ | 2″ FPT |
| INFD30-24† | 30 Gallon Full Drain | 17 | 24 x 33 | 12″ | 1 1/2″ FPT BOSS |
| INFD40-30† | 40 Gallon Full Drain | 26 | 30 x 34 | 12″ | 2″ MPT BOSS |
| IN0055-24† | 55 Gallon | 24 | 24 x 42 | 12″ | 2″ FPT |
| INFD55-24† | 55 Gallon Full Drain | 24 | 24 x 46 | 12″ | 1 1/2″ FPT BOSS |
| INFD60-30† | 60 Gallon Full Drain | 28 | 30 x 38 | 16″ | 2″ MPT BOSS |
| IN0085-30† | 85 Gallon | 37 | 30 x 43 | 12″ | 2″ FPT |
| INFD85-30 | 85 Gallon Full Drain | 37 | 30 x 48 | 12″ | 2″ FPT BOSS |
| IN0110-30 | 110 Gallon | 44 | 30 x 51 | 12″ | 2″ FPT |
| INFD110-30 | 110 Gallon Full Drain | 44 | 30 x 56 | 12″ | 2″ FPT BOSS |
| Part No. | Description | Weight | Dimensions | Lid | Fitting |