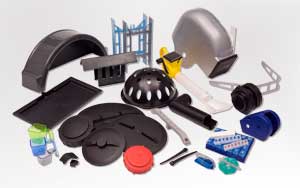 Precision and strength are just two reasons why injection-molded products are one of the fastest growing segments of the plastics industry. In countless shapes, sizes and colors, Den Hartog Industries can manufacture whatever you can imagine. The Injection Molding division of Den Hartog Industries has 16 Injection machines (30 to 610 ton) as well as decorating, stamping, packaging, and assembly services available. Serving the agricultural, medical, industrial, and consumer markets, Den Hartog Industries' custom Injection Molding division is producing quality products that are shaping the future.
"If you can imagine it, we can manufacture it"

1-Your Concept and Design

Before beginning any project, DHI will review your initial design or concept for moldability. After the review, we will make suggestions to enhance or improve your idea. DHI can also help in material selection. We believe that early supplier involvement allows all parties a voice in timely, reliable, cost-effective product development.

  

2-Design Proposal

DHI has design capabilities to create part and/or mold designs. Using the latest design software allows us to develop design proposals for your review.


3-Consultation

DHI will consult with you throughout the development process to ensure that your objectives are met. This consultation can be at our facility or yours. Our recommendations will assess price, quality and serviceability alternatives.


4-Computer Simulation

DHI's engineers will computer-simulate your design using state-of-the-art software that ensures the design is functional and capable of the injection molding process and the materials specified.


5-Tooling Capabilities

Our in-house tooling capabilities ensure that your timelines are met and that future requirements and needs, such as revisions or repairs, are met with quick response. In addition, DHI has relationships with domestic and overseas tooling vendors to meet special needs or specifications. Our goal is to provide world-class mold-building for our clients.


6-Manufacturing Services

Customers are assured of quality injection molded parts that meet the most stringent requirements. DHI uses the latest in molding technology and equipment, operated by highly qualified, well-trained employees who take pride in their work.  Our machine capacity ranges from 85 to 610 tons.


7-Secondary Services

Many customers rely on DHI's secondary services to take a product from concept to showroom. Ask us about decorating, stamping, packaging and assembly to put the finishing touches on your project.


8-Quality Assurance

We strive to build quality into our processes through our Quality Assurance Department, and will work with you to meet specific audit or quality assurance requirements.


9-Warehousing

DHI provide indoor, climate-controlled warehousing for your product to ensure cleanliness and quality. Our computerized inventory management tools can accommodate different stocking programs for our customers.


10-Shipping

Rely on DHI to provide transportation using our custom fleet of 18 trucks. We'll also work with the carrier of your choice. Our transportation department will effectively plan and manage your shipments.