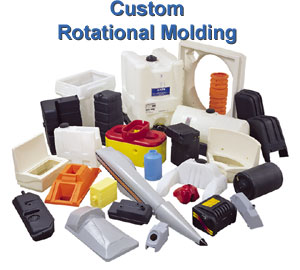 Rotational molding is shaping the future. Den Hartog Industries is capable of roto-molding an endless variety of shapes, sizes, colors and materials. We currently serve a variety of markets; from agriculture to health care, safety equipment to food service—industry is turning to roto-mold products to do the job. With 21 Rotational Molding machines in various sizes all the way up to the giant Ferry Roto-Speed RS3-550 with a 218" x 209" spherical swing, Den Hartog Industries is shaping the future with custom roto-mold products.
"Your Idea and Our Expertise"
1- Your Idea

DHI will work with your initial design sketches, drawings or ideas to convert them into a design that will be economical and practical for the molding process while offering optimal functionality for your application.

2- Design Proposal

DHI's experienced engineers will prepare a series of design detail sketches. Our recommendations will assess price, quality, and serviceability to optimize the design.

3- Consultation

DHI's engineers and manufacturing managers will consult with you throughout the development process to ensure that your objectives are met in a successful design. The consultation can be at your facility or ours.

4- Computer Simulation

DHI will model the design with state-of-the-art computer software. Our design experts want to insure that the design is both functional and capable of the manufacturing process.

5- Tooling Services

DHI staff will provide turnkey, economical tooling services for both cast aluminum and stainless steel construction. Your approved design can be fabricated by our experienced, industry-leading team of mold-fabricators.

6- Production

DHI will produce your part design utilizing the latest technology in production equipment.

7- Manufacturing Services

Our equipment allows us to control variables from resin quality to product finishing and testing. Additionally, we offer secondary finishing operations to complete your product.

8- Quality Assurance

DHI provides full Quality Assurance services to meet your specific audit requirements. Our Quality Assurance Department uses TQM principles to assure process control.

9- Product Testing

Standard assurance, as well as custom-tailored programs are available for your specific needs.

10- Warehousing

DHI provides indoor, climate-controlled warehousing of your product to ensure cleanliness and quality. Our warehouse, shipping, and production staff use computerized inventory management tools.

11- Shipping

DHI will provide full transportation services utilizing our fleet of trucks or a carrier of your choice. Our scheduling and logistics staff will effectively plan and manage your shipments.