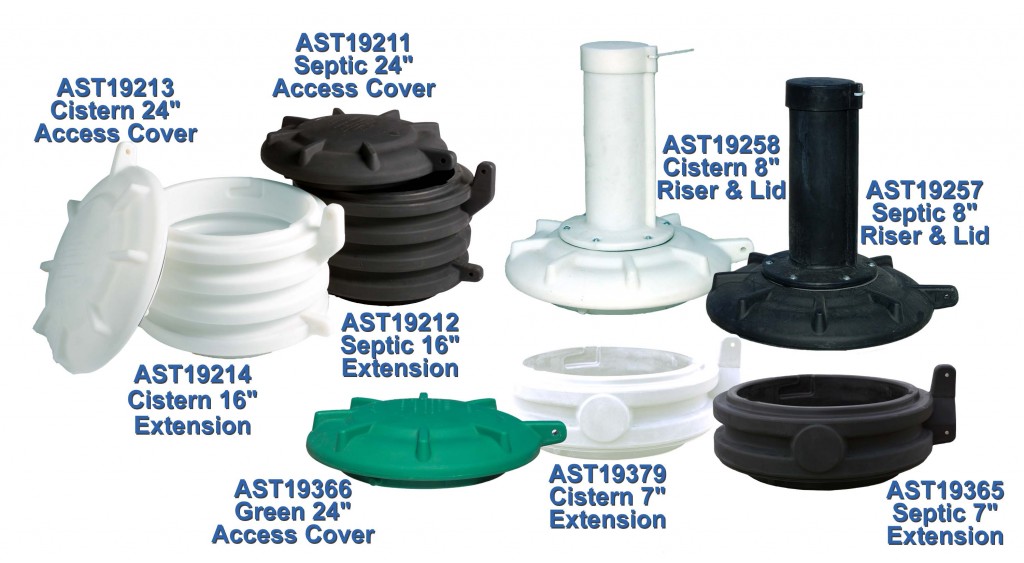 Den Hartog Industries' exclusive Secure-Seal Septic & Cistern Accessories provide a safe and reliable way to secure your tank and protect your family, health, property, and investment.
Secure-Seal
Access Extensions and Covers are custom roto-molded using high-density polyethylene with U.V. inhibitors. They feature a stop-bead and backup dam along with a custom Nitrile rubber gasket to ensure a water-tight seal. Secure seals prevent contents from escaping tank and prevent excess rainwater from entering and flooding tank. This protects both your drinking water and your property!
Locking Design
All covers and extensions lock onto the tank body and to each other using three bayonet keys. Nylon ties can be used to lock covers through the locking ears without using metal fasteners that can corrode and fail. Locking your tank prevents unauthorized access and accidents.  Ace Roto-Mold's Secure-Seal accessories keep your family, health, property, and investment safe and secure.
Functions
Two different sizes of Access Extensions can raise the height of your cover in combinations of 7″ and 16″, up to a maximum burial depth of 36″. Extensions feature a flat round boss on two sides to facilitate fitting installation or pump-mounting. Risers are 8″ in diameter and almost 24″ high from the top of the access cover. Risers provide convenient access for inspectors and the cap can be secured with a nylon tie. Access covers are large enough for easy pump-out and are available in black, white, or green.
Internal Accessories
Ace Roto-Mold's heavy-duty divider panels include three sections and can easily convert a one-compartment tank into a two-compartment tank by being inserted into any rib of the tank. The exclusive tank baffle system slows the flow of wastewater and directs it to the middle of the tank so wastewater can separate from solids. An outlet baffle allows the partially treated liquids to flow out for further treatment. State-specific internal plumbing kits are available to meet local requirements.
View technical drawings by clicking on the part number below.
| | | | |
| --- | --- | --- | --- |
| Part No. | Description | Weight | Dimensions |
| AST19365 | 7″ Access Extension – Black | 13 | 32.5 x 13.5 |
| AST19379 | 7″ Access Extension – White | 13 | 32.5 x 13.5 |
| AST19212 | 16″ Access Extension – Black | 35 | 32.5 x 16 |
| AST19214 | 16″ Access Extension – White | 35 | 32.5 x 22 |
| AST19368 | 16″ Access Extension – Green | 35 | 32.5 x 16 |
| AST19211 | 24″ Access Cover – Black | 17 | 32.5 x 8 |
| AST19213 | 24″ Ace Access Cover – White | 14 | 32.5 x 8 |
| AST19366 | 24″ Access Cover – Green | 17 | 32.5 x 8 |
| AST19257 | 8″ Riser and Lid – Black | 20 | 32.5 x 29 |
| AST19258 | 8″ Riser and Lid – White | 20 | 32.5 x 29 |
| AST10078 | 4″ Sanitary Gasket | 1 | 4.00 ID x 8 OD |
| AST10084 | 4″ Sch. 40 Gasket | 1 | 4.25 ID x 8 OD |
| AST19544 | 24″ Septic/Cistern Opening Restrictor | 4 | |
| AST19256 | 4″ Gasket Retainer w/ Hardware | 1 | |
| AST10154 | Divider Panel Assembly for 1000 gal w/ Hardware | 52 | |
| AST19233 | Divider Panel Assembly for 1250/1500 gal w/ Hardware | 46 | |
| AST18000-xx | Internal Plumbing Kit | | |
| Part No. | Description | Weight | Dimensions |