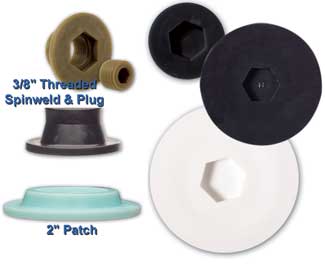 DHI spinwelds feature a hex driving recess to ease installation.  This driving recess makes the installation tools universal and easy to construct.  These spinwelds also feature a specially designed conical welding surface that helps to center the spinweld and increases the surface welding area.
View technical drawings by clicking on the part number below.
*Black part numbers are listed.
*Call for quote on custom colors.
| | |
| --- | --- |
| Part No. | Description |
| 10237 | 3/8″ Threaded Plug |
| 10041 | 3/8″ Threaded Spinweld |
| 12104 | 3/4″ Patch (9/16″ Hex Drive) |
| 10008 | 1″ Patch (3/4″ Hex Drive) |
| 12429 | 1 1/2″ Patch (3/4″ Hex Drive) |
| 10441 | 2″ Patch (3/4″ Hex Drive) |
| Part No. | Description |