Den Hartog Industries, Inc Honored by Department of Defense for Extraordinary Support of Employees Who Serve in the Iowa National Guard and Reserve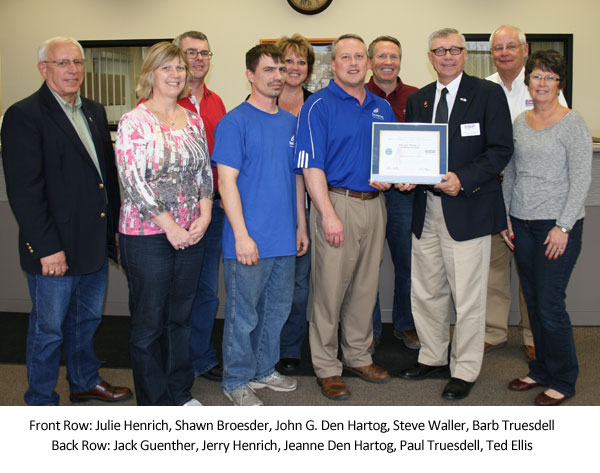 Hospers, IA – The Iowa Committee for Employer Support of the Guard and Reserve (ESGR), an agency of the Department of Defense, announced today that John G. Den Hartog, President of Den Hartog Industries, Inc., was honored with a Patriot Award in recognition of extraordinary support of its employees who serve in the Iowa National Guard and Reserve.
According to Dick Rue, Iowa ESGR State Chair, "The Patriotic Employer Award was created by ESGR to publicly recognize individuals who provide outstanding patriotic support and cooperation to their employees, who like the citizen warriors before them, have answered their nation's call to serve.  Den Hartog Industries was nominated for being highly supportive of the National Guard service by its reserve component employee.  Supportive supervisors are critical to maintaining strength and readiness of the nation's National Guard and Reserve units."
 Shawn Broesder, nominator, started his employment with Den Hartog Industries, Inc. in April of 2004.  In 2005 Shawn left for duty with the Army National Guard Reserves, upon their return the unit became known for spending the most consecutive days in Iraq for one tour.    Less than four years later Shawn entered himself into another challenging, yet rewarding, situation.  Shawn's latest journey included training newer soldiers of the 2168th Transportation Company based out of Sheldon.  His duty was to train the soldiers the tasks and drills needed prior to going overseas.  In August of 2010 they were deployed to Camp Shelby Mississippi for another month of training, followed by additional exercises in the Mojave Desert in California before their ultimate departure to Bagram, Afghanistan.
 "Coming home to such a great environment is crucial to readjusting to civilian life.  Den Hartog Industries is not just an employer to me, but more of a family" – Shawn Broesder
 In September 2011 Den Hartog Industries was fortunate to receive a Freedom Award nomination from the ESGR.  The Freedom Award is the highest recognition given by the U.S. Government to employers for their outstanding support of employees who serve in the Guard and Reserve.
 In April Den Hartog Industries will once again be honored with "The Pro Patria" award in Des Moines, Iowa.  The "Pro Patria Award" is presented annually by each ESGR Committee to the one employer in their state or territory who has provided the most exceptional support of our national defense through leadership practices and personnel policies that support their employees who serve in the National Guard and Reserve.  Den Hartog Industries has been chosen as the top small employer in the State of Iowa
As the 1.3 million members of the National Guard and Reserve continue to perform an increasing number of unique missions with America's borders and beyond, ESGR will continue to be the resource for the employers of citizen warriors.  ESGR provides education, consultation, and if necessary mediation for employers of Guard and Reserve employees.  More information about ESGR Employer Outreach Programs and volunteer opportunities is available at www.esgr.mil, or by calling (800) 294-6607.
 Den Hartog Industries Inc. is a leading plastics and livestock equipment manufacturer located in Northwest Iowa and a nationwide distributor of Ace Roto-Mold, Injection Molding, Blow Molding and Sowjoy products.  Den Hartog Industries has several employees who are or were actively involved with the Army National Guard and to show their gratitude, DHI will continue to follow their policies and procedures and programs that are "Above and Beyond" what is required by the law and serves as an advocate for employee service in the National Guard and Reserve.  Den Hartog Industries is a second-generation, family owned business that is committed to being "Always at your Service."