Den Hartog Industries Awarded Medal for Supporting Employee Stationed in Iraq for Extended Tour of Duty
When Shawn Broesder left for duty in the Army National Guard Reserves in September of 2005, he had no idea that his unit would become known for spending the most consecutive days in Iraq for one tour. His employer, Den Hartog Industries, never thought Shawn would be gone for two years either, but that didn't stop them from supporting Shawn as he served his country.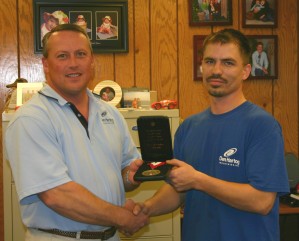 Shawn (pictured at right) presented Den Hartog Industries President & CEO, John Den Hartog Jr. with the National Guard Team Medal. The medal is given to members of the National Guard upon their return to award to someone who showed them great support while they were deployed. Shawn said that this award is not always given to an employer, but he decided to present this award to his employer because Den Hartog Industries went beyond his expectations supporting him and his family while he was gone. Shawn appreciates the help, encouragement and the care packages that he received from the company, his supervisors and fellow employees.
Upon being awarded the medal, John Den Hartog said, "I never really thought about what we were doing for them, only what they were doing for us. The National Guard Team Medal speaks highly of all of our employees and our company, for everyone played a role in supporting Shawn and all our other service personnel. It's a great feeling knowing that at DHI, we regard ourselves, not only as coworkers, but as family and friends."
Den Hartog Industries is part of a 5-Star Employer Program, which seeks to inform and educate employers about their rights and responsibilities towards their employees who serve in the National Guard and Reserve. As a 5-Star Employer, DHI signed a Statement of Support publicly demonstrating support for their employees who serve in the National Guard and Reserve.  DHI also adopted polices and programs that are "Above and Beyond" what is required by the law and serves as an advocate for employee service in the National Guard and Reserve.  In addition to Shawn, DHI has supported a total of 7 National Guard members that served their country.
Currently employed at Den Hartog Industries include
Brandon Forcier (left) from Akron and Eldon De Wild (right) from Hull.
Jesse Van Wyk (not pictured) from Alton is currently undergoing training.
Sgt. Shawn Broesder serves in the 133rd Infantry ("Ironman Battalion") of the Iowa National Guard. The mission tasked to the 133rd Infantry was convoy security in the western region of the Iraqi theater of operations. This Iowa battalion completed the longest continuous deployment of any Army National Guard unit during the Iraqi war, and is the longest deployed Iowa Guard unit since the Second World War.
Upon their return, Shawn said that they were bussed from Wisconsin and every overpass along the way was full of people. Escorted by 200 American Legion Patriot Bike Riders to Riverfront Stadium in Waterloo, they were greeted by family and friends in the largest homecoming ceremony since WWII. Shawn was welcomed home by his wife Jessica of seven years and their three children, Zachery (7), Elijah (5) and Emilee (3). Shawn and his family make their home in Sheldon.
U.S. Congresswoman Madeleine Bordallo (D-Guam), in addressing the House of Representatives on July 30, 2007 said, "The story of Iowa's 1st Battalion of the 133rd Infantry is even more remarkable because their extended tour of duty in Iraq was a crucial component of the surge policy. This battalion made a great sacrifice that has impacted their family lives and their jobs. However, their unfaltering willingness to serve an extended tour allowed the National Guard to reset the force and begin the process of serving in more predictable deployment cycles. They not only sacrificed for our freedom, but for the betterment of their fellow guardsmen across the Nation."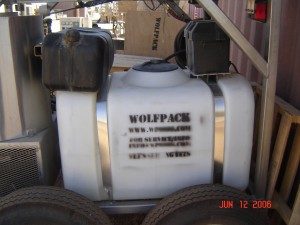 While in Iraq, Shawn Broesder got a glimpse of home when he spotted this Ace-Roto Mold rectangle utility tank on a power-washing unit used by a civilian contracting company.
Den Hartog Industries operates four manufacturing divisions and has over 325 employees at its manufacturing and corporate facilities located in Hospers, Iowa. DHI is a nationwide distributor of Ace Roto-Mold, Injection Molding, Ace Dock Accessories and Sowjoy products. Den Hartog Industries Inc. is a second-generation, family-owned business that celebrates over 32 years of being "Always At Your Service".