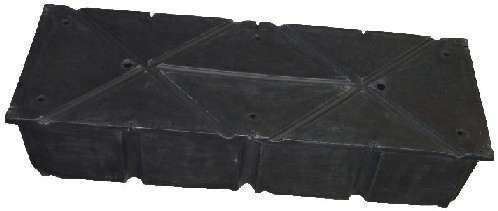 Den Hartog Industries is proud to announce five new additions to our commercial float drum line.
These tanks feature 10 mounting slots for attachment and are ribbed on the top and bottom for strength.
The sidewalls are also ribbed at each connection point for strength.
The floats are furnished with one 3/8″ NPT plug for air exhange when out of the water.  The encasement is produced from Linear Low Density Polyethylene with U.V. inhibitors.
Our foam filled products are tested in accordance to industry standards as established by Fredrick Hunt.
Maximum support buoyancy for these foam filled floats"
36″ x 96″ x 12″     1300 lbs.
36″ x 96″ x 16″     1733 lbs.
36″ x 96″ x 20″     2170 lbs.
36″ x 96″ x 24″     2594 lbs.
36″ x 96″ x 32″     3409 lbs.
The foam in these floats is CFC free expanded polystyrene (EPS) with a density of 1 lb/cu ft.
Information regarding our commercial floats can be found in the  "Commercial Float Drums" category of the "Marine Products" section of the website.