New Product Release: Low Profile Septic Tank
Visit our Low Profile Septic Tank page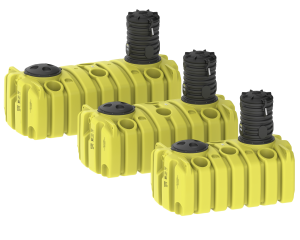 Features:
1000, 1250 and 1500 gallons of storage.
Sectional ribbing to sustain vertical soil pressures up to 500 PSF at a maximum soil depth of 36″.
Manufactured from high-density polyethylene with U.V. stabilizers.
Furnished with two 24″ openings for burial lids or access and inspection risers each sealed with a PVC closed cell gasket.
Fitting flats on each end; designed to accept NPT fittings up to 4″ (Fittings are optional).
Designed for below ground installation.
Standard color is yellow.
Low Profile Septic tanks are available in one-compartment and two-compartment designs.
Tanks are manufactured for containment of liquids up to 1.7 specific gravity.
These low profile   tanks are designed and manufactured to meet wastewater treatment system standards.
The 1000, 1250, and 1500 gallon double-compartment low profile septic tanks have been tested by IAPMO to meet the IAPMO/ANSI Z1000-2013 and CSA B66-2016 standards.
To see a list of approved installation locations please visit our Low Profile Septic Tanks page.
Specifications:
LPS-1000-1
Dimensions 72 x 121 x 58
Weight: 582 lbs.
LPS-1000-2
Dimensions: 72 x 121 x 58
Weight: 602  lbs.
LPS-1250-1
Dimensions: 72 x 173 x 58
Weight: 638 lbs
LPS-1250-2
Dimensions: 72 x 137 x 58
Weight: 658
LPS-1500-1
Dimensions: 72 x 153 x 58
Weight: 694
LPS-1500-2
Dimensions: 72 x 153 x 58
Weight: 712