Den Hartog Industries is proud to expand its line of Mooring Buoys.  The newest additions to the line include a 32″, 38″ and 42″ bumper style mooring buoys.  Our Mooring Buoy line now consists of these new styles as well as our current 12″, 18″ and 24″ sizes with bumpers.  Mooring Buoys are designed for buoyancy support of mooring systems for boats and other watercraft, or for marking locations on water systems.  These foam-filled buoys feature a protective bumper around the perimeter of the buoy to protect the reflective tape.  Three flat areas are available on each buoy for placement of identification numbers, logos or other graphics.  These mooring buoys have a steel center tube for anchoring.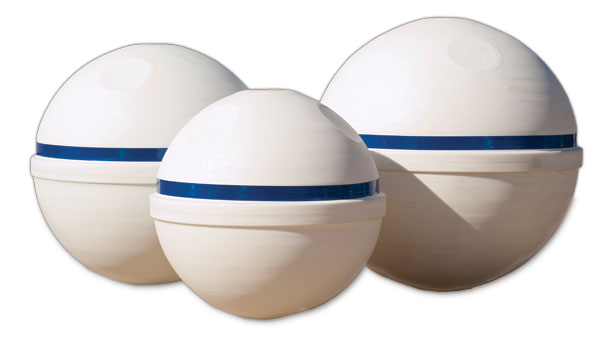 Features:
Each buoy is furnished with one 3/8″ NPT plug for thermal ventilation when out of water
Reflective tape comes standard in blue and meets current buoy marking standards.  Orange tape is also available
Encasement is produced from linear-low density polyethylene
Foam fill is expanded polystyrene (CFC free).
Standard buoys are white in color, orange and yellow are also available.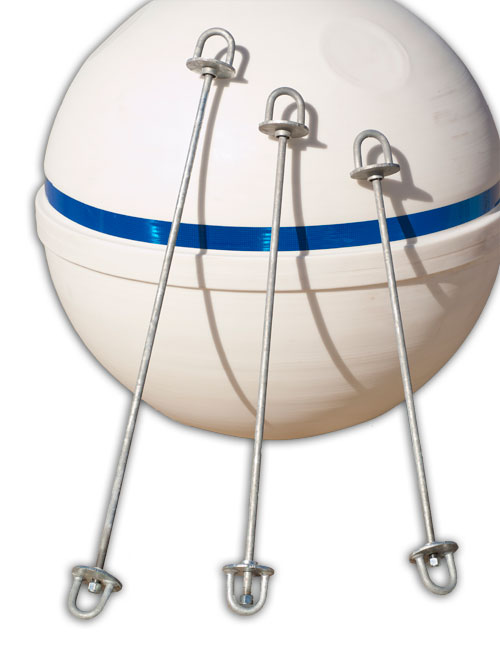 Features:
Each Fixed Hardware System features welded steel hoops on each end of a rod for securing chain or cable
Designed to be installed through center tubular shaft of DHI Buoys
Produced from mold steel and feature galvanized finish for corrosion resistance
Kits consist of a Top Loop and Rod Weldment, Bottom Loop Weldment and a stainless steel lock nut
Ace Mooring Buoys and Hardware Kits are designed to provide a safe and durable means for support of mooring systems.
We will continue to offer our current 32″, 38″ and 42″ Round Buoys and Hardware.  They will now be featured on our website and all literature as:
FFMB-3232RND & FFMB-32FRND
FFMB-3838RND & FFMB-38FRND
FFMB-4242RND & FFMB-42FRND
Installation instructions are furnished with each buoy or hardware kit.  You can also reference Installation instructions and product specifications on the                         Ace Dock Accessories – Mooring Buoys page of our website.