Den Hartog Industries, Inc. is proud to introduce our new 4′ Round Stock Tank. This stock tank is designed for livestock watering or utility water storage.
Tank Specifications and Features:
– Double wall rim and circular sidewall ribbing for strength
– Hand-holds provided on each side for handling
– Tapered sidewall enables efficient stacking for storage and shipment
– Four stacking lugs are provided around the tank rim to prevent wedging
– Tank features a 1-1/2″ tapered pipe thread for draining
Material:
– Tank is manufactured from linear low-density polyethylene with U.V. stabilizers.
Standard weight tank is designed for chemicals with a specific gravity of 1.00. Resin is rated USDA compliant. Standard color is spruce green.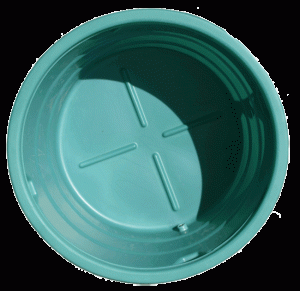 Visit our Stock Tank page on the website to view additional product information and prints.  You can also view our Liquid Storage and Containment section to see our other containment options and download a copy of our catalog.