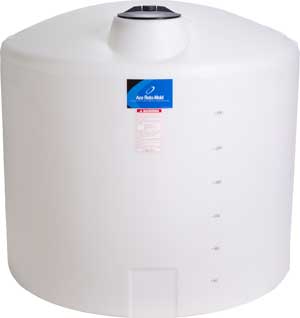 Den Hartog Industries is proud to announce our newest addition to our Vertical tank line.
The top of this tank is fully domed for strength.  Gallon indicators are included on one side of the tank.  The tank features one side sump for fitting installation.
The tank is manufactured from medium density polyethylene with U.V. stabilizers and the standard color is white.  This tank comes with an 8" Vented Lid Assembly and a 2" FPT polypropylene fitting with Santoprene gasket as standard equipment.
The tank is designed for chemicals with a specific gravity of 2.0.  Consult factory for optional sizes, location, materials and gaskets.
Information regarding our commercial floats can be found in the  "Vertical" category of the "Liquid Storage & Containment" section of the website.