Den Hartog Industries is excited to introduce a new float to our Ace Roto-Mold Float Drum Line!
This new addition is a 42″ x 72″ x 20″ foam filled dock float.  It features 10 mounting slots for attachment.  Both the top and bottom are ribbed for strength.  The side-walls are also ribbed at each connection point.  Ace Roto-Mold Float Drum's foam filled products are tested in accordance to several industry standards:
7-Day Hunt Water Absorption Test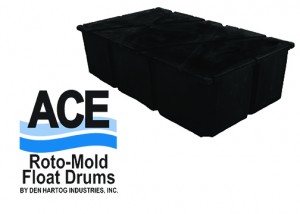 Tank Tested Buoyancy Ratings
 Falling Dart Impact Test
US Army Corp of Engineers Regulations
 Features:
Furnished with one 3/8″ NPT plug for thermal ventilation
when out of water
Encasement is produced from Virgin Linear Low Density Polyethylene
Foam fill is expanded polystyrene with a density of 1 lb/cu ft
Buoyancy: 1934
Visit the Ace Roto-Mold Float Drums page of our website to view this and the entire line of float drums!