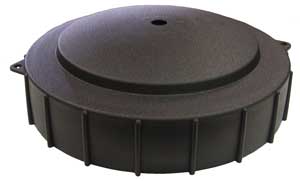 Den Hartog Industries is proud to announce the newest addition to our line of Accessories, Lids and Fittings with a new 7″ threaded polypropylene lid.
8″ R.H. Buttress-style threads and ear tabs are available for lanyard attachment.
Options:
Non-Vented – does not allow air exhange in or out of tank

Spring Loaded Vent – allows air into the tank

Two-way Stepped vent -allows air exchange in or out of the tank
Our innovative step vent prevents the tank contents from sloshing out.
The Lid and Step Vent are produced from injection-molded polypropylene and are black in color.
The vent is sonic welded to the inside of the lid.  The Step Vent is preferred by customers who bottom-fill their tanks.
A gasket will soon be available to seal the lid to the tank.
See the listing of tanks on which this lid comes standard by clicking here.
Information regarding our commercial floats can be found in the  "Lids" category of the "Accessory Parts" section of the website.