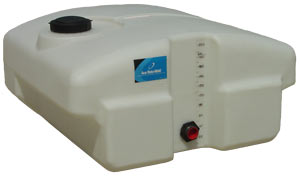 A new shape designed for convenient transport in compact and mid-sized pickup trucks is a distinct feature of the newest addition to the Ace Roto-Mold tank line.
The new 205-gallon Pickup Tank from Den Hartog Industries, Inc. is just 26″ in height. This popular low-profile design improves rear vision; drivers can see over the tank when it is placed in the bed of their truck.
At 52″wide and 52″ long, the tank fits pickup truck beds with a minimum length and width of 53″.  This new tank is a great option for owners of compact and mid-size pickup trucks, including the 2005 –2007 models of the Nissan Frontier, GMC Canyon, Toyota Tacoma, Ford Ranger, Dodge Dakota, and Chevrolet Colorado. (Please verify box sizes with dealer).
Wheel Well recesses allow use of your full truck bed space, and placing one end behind wheel wells help keep the tank from sliding out the back of the pickup. Two hand-holds on each side of the tank make it easy to lift and place the empty tank into a truck bed. Shipping weight of the tank is 87lbs.
Gallon indicators are included on each end of the tank and a rib on each end recesses the drain fitting.  The tank is furnished with our NEW 7″ threaded neck-style vented lid assembly.  Specific gravity on the standard tank is 1.7.  The tank is furnished with a 2″ FPT polypropylene fitting with Santoprene gasket and syphon tube.
A full listing of all Pickup Tanks and the available PDF prints can be found in the  "Pickup Tanks" category of the "Liquid Storage & Containment" section of the website.