New Product Release: Reverse Liquid Level Sight Gauge Kits
Features:
Kit is designed for DuallineTM tanks where actual liquid levels are not normally visible.
Two kits are offered:
Small Gauge Kit (14987) for tank capacities of 1500 gallons and less.
Large Gauge Kit (14988) for tank capacities of 2000 gallons and larger.
Gauge works in reverse order – when tank is full the level indicator is at bottom of sight tube and conversely when tank is empty the level indicator will be at top of the sight tube.
Product is manufactured from PVC tubing, polypropylene rope and stainless steel hardware.
Kits are intended to be field installed by the dealer or user in DuallineTM tanks.
Kits are for liquid level approximation only, not intended for precise metering applications.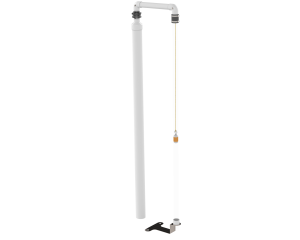 Specifications:
Shipping carton dimensions and weight:
24″ long x 13″ wide x 8″ high
Weight of either kit is 15 lbs.
Kits do not include PVC tubing to house the internal float and external indicator – material may be locally sourced.