16″ Black colored lids 15082 & 15083 are replacing BLUE colored lids 14761 & 14762.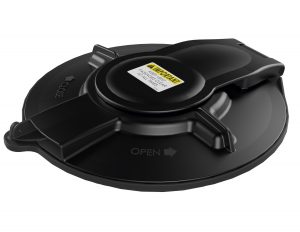 Features:
Designed to be a direct replacement for the DHI non-hinged threaded lid as well as current competitive 16″ lids.
Manufactured from No Break Polypropylene resin.
Available in both vented and non-vented configurations.
Vented lids offer equivalent air flow of a 4″ fitting.
Complete with O-rings and gaskets to prevent spills during transport, etc. O-rings are manufactured from Buna-N Rubber.
Maximum sustained internal pressure of 1/2 PSI.
Gravity float to reduce fluid leakage in event of roll overs.
Lid engagement is bayonet style with only 1/8 turn to close.
A provision for securing the lid with a lock or hitch pin is provided.
Specifications:
Shipping  weight of Lid assembly is 5.5 lbs.
Lid body and hinge arm are black in color.