In response to our customers' requests, Den Hartog Industries is excited to introduce a 2″ Male Pipe Thread fitting option on some of our Full Drain Inductor Tanks.  The 15, 30 and 24″ diameter 60 gallon Full Drain Inductor Tanks will now be available with either their standard 1 1/2″ FPT fitting or a 2″ MPT fitting option.  This gives customers more fitting/flow options.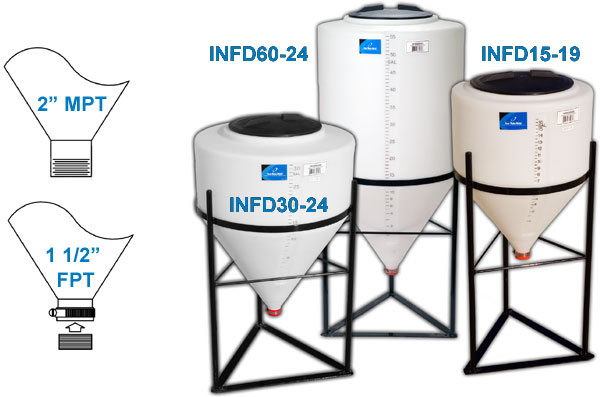 Features:
Conical Bottoms facilitate liquid drain out
Furnished with a 12″ non-vented lid assembly
1 1/2″ FPT BOSS molded-in threaded outlet is standard with a 2″ MPT outlet as an option
Threaded in outlets for complete drainage
Tanks require stands to support conical bottoms
Tank walls are translucent for level viewing and equipped with gallon indicators
Designed for the containment of chemicals with a specific gravity of 1.7
Tanks are manufactured from medium-density polyethylene with UV stabilizers
Taller-Full Drain Stands are available when additional clearance is required
To view product prints and specifications please visit our Inductor Tanks page.  You may also be interested in our Cone Bottom Tanks line.