Den Hartog Industries would like to announce changes to our popular 500 gallon Horizontal Tank.  Effective with new production this tank will be available with the standard 8″ lid as well as the 12″ and 16″ lid.  Another change will make the end sumps 2″ taller to accomodate larger fittings.  The 500 gallon (48″ diameter) horizontal tank is for indoor or outdoor, stationary or transportable applications.  Two strap recesses are provided to facilitate anchoring.  Tank requires the bottom to be fully supported with cradle for use.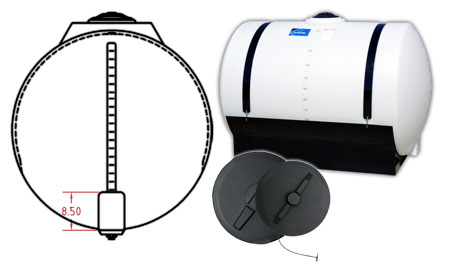 Features
Available with 8″, 12″ or 16″ Vented Lid Assembly with lanyard
3/4″ & 1-1/4″ FPT polypropylene fittings with Santoprene gaskets are standard.
Gallon indicators are included one one end and one side of the tank.
Ends of tank feature fitting flats for installation options.
Designed for containment of liquids with a specific gravity of 1.7 or lower
Tanks are manufactured from medium-density polyethylene with U.V. stabilizers.
Visit the Horizontal Tank page to view complete product specifications.  You may also like to visit our Free-Standing Horizontal tank section to view additional containment options.